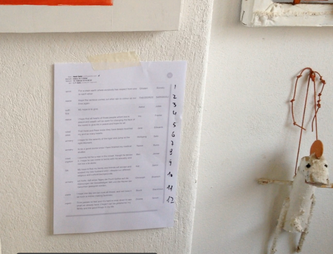 No video today -:(
(the recording went lost in the digital universe)
Today we had lottery 19 for HOPE & GIVE with 12 applicants in the hat. The winner today is Brock Stackhouse in Canada.
 "I hope one day we can cure all illness, and not have it be such a money making business "
Brock, Congratulations!
 We will send a few questions to Brock.
After his reply Peter will start creating the two paintings:
one most individual for him, which will be a creative interpretation of his hope incorporating his answers to our questions
and another one, which will be Peter´s comment to his hope, so to say.
The first painting is for Brock himself to keep and the second painting will be given away by Brock to someone he wants to communicate with about their hopes.
All the other charming applicants remain in the hat (see the list of all below)
and the next lottery will take place next week.
Please be so kind to spread the word about this project and invite as many people as possible to participate.
Thank you so much!
Heidi+Peter
Applicants, in green are the happy winners until now:
Wolfgang Bahr, Rosemarie Richter, Janet Alibrandis, Iris Franke, Jane Edwards, Astrid Julies, Reiner Schneeberger, Thodoris Sarigkiolis, Douglas Beliakoff, Astrid Theile-Papanikolaou, Kathryn Robinson, Liam Archbold, Ghislain Borrelly, Wolfgang Geigenberger, Marijana Kravos, Ines Hughes, Irene Meijer, Anat Halevy, Rosmarie Schallenberg, Nawar Bunni, Ben Jenner, Kat Salimi, Christoph Broelsch, Lisa Stoerkmann, Tabitha Pearson, Christa Keleher, Karin Ochenbauer, Brock Stackhouse, Julia Budnik, Efthalia Marinou, Zsuzsa Simon